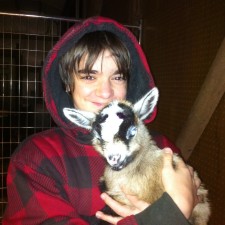 I just had to go with this title as my husband always loves to joke about all my little Nigerian Dwarves running about the farm. I beg him to add "goat" so people don't think we have some sort of labor camp for foreign little people but he refuses to give up this joke.
To be perfectly clear, we have Nigerian Dwarf Goats. In fact the boys actually counted this morning and we officially have 11 of these amazing little creatures. We have 13 goats total but 1 is a Nubian and 1 is a fainting goat (sooooo funny to watch!). The boys and I are proud card carrying members of the Indiana Nigerian Dwarf Goat Association… we even have the shirts to prove it!
I fell in love with the breed immediatley upon getting our oldest son a week old Nigerian Dwarf buckling for his twelth birthday. I saw a picture on Craigslist of the most adorable little goat and said, "He must be ours"… the timing of Jackson's birthday was perfect and I convinced him he wanted a goat. We named him Elliott. He was our first goat and one of two wethers we have. I'm going to be throwing around some terms during this blog that everyone may not recognize so let's get a couple things straight in the goat lingo department…
doe: female goat
buck: male intact (not neutered) goat
wether: male goat (neutered, no testicles and therefore none of the hormonal surges and stink of the buck)
kid: baby goat (boy and girl)
buckling: baby boy
doeling: baby girl
We wethered Elliott (via banding) and bottle raised him. Goat's can easily digest whole cow's milk and I have to say bottle feeding this goat was an amazing experience which bonded him to us (and us to him) in ways few would ever believe. Elliott comes when called, loves snuggles, and gets along beautifully with everyone he meets (animal and human!). I highly recommend bottle raising goat kids to bond them to you.
People ask if we consider our goats as pets. No, we really do not. I define a pet as a creature that you have almost constant contact with and allow in your living space (no, I don't call my kids my "pets" but they could qualify I guess). There are only a few occasions that we have brought a goat kid inside for any length of time and for that period yes, I guess they could have been considered pets (when they joined the herd outside they relinquished pet status).
However, this does not mean that goats are less friendly, less trainable, or need less attention than our indoor dogs, cats, bunny, or fish pets. Goats certainly need to be checked on at least twice a day, socialized and receive human contact (yes even the smelly bucks… PLEASE handle your bucks people so they do not become unruly!) if you are to have any chance of being able to trim hooves, give veterinary care, milk, and be able to lay hands on your goats for whatever purpose (including snuggles!).
Why do we have goats? Oh let me count the ways…
Great comic relief and so much fun to watch
We milk our goats and use that milk in lotions and soaps.
We use their droppings (called "berries") for fertilizer in the garden and compost
They are amazing at clearing brush and poison ivy in our woods
They provide an avenue to build work ethic with our boys
Some day I will talk my sons into joining 4-H and they can take the goats into the show ring!
They are just plain adorable
To teach others about God's creation
I can't resist the lure of a baby goat face (not a good reason I know but I'm honest)
Many urban areas even allow up to 2 miniature sized breeds of goats (think pygmies and Nigerian Dwarf Goats). Please know that if you are thinking of getting a goat consider this
Goats need hay (or forage to include grass AND more fiberous woody material), minerals (can be bought in bags at feed stores), constant access to clean water (try to elevate it slightly, they seem to love pooping in their water and will not touch it after that… can you blame them?), and a balanced feed ration, especially in winter (often comes in a pelleted form).
Most goats (including the Nigerian Dwarf Goat) are escape artists and can easily jump 4 foot fences and climb seemingly vertical structures to check out if the grass is truly greener on the other side of the fence…or if shingles on your roof are edible. Though they will not eat ANYTHING as most people think, goats do eat A LOT of things (to include your or your neighbors beautiful roses, garden produce, berry bushes, and pine trees). Like horses, goats usually know instinctively which forage is harmful to them and will stay away from it. But, if they are really hungry and nothing else is available (or if it's heavily mixed with things they do find yummy)they will eat things that can poison them. Goats will not eat any little piece of hay or food that has been urinated or pooped on… put their hay up!
Goats have to be wormed regularly. There are organic and chemical methods for this but it has to be done consistently. Because they eat from the ground they tend to carry wormloads and you don't want worms overtaking your goat!
Goats are herd animals and want to be part of a herd (this can include other goats, sheep, YOU, and sometimes dogs). If you are getting one goat I highly recommend you get another for its buddy unless you want to hear a goat "yelling" for you day and night.
To understand these things is to understand that you need to let a goat be a goat. I understand our goats really well… they want to eat, drink water, play, sleep, fight, and reproduce. The fighting is few and far between as they all have their herd status and "pecking order" figured out now, but as our bucklings grow up they are testing their elders and each other. Goats spend most of their time grazing (eating). They fill up their bellies to almost bursting proportions and then they lay or stand lazily regurgitating that food and chewing it (chewing their cud) to finally be digested. I wish I had a dime for every person who has asked if my wethers were pregnant… full bellies (known as "rumen" in goats) makes any goat look very pregnant to the unpracticed goat handler.
Why the Nigerian Dwarf Goat?
For their size (small in stature, a tiny bit bigger than a standard pygmy) they give an amzing amount of milk. Ariel, our wonderful beige Nigerian Dwarf Goat, kidded a few months back with a single buckling and we are getting almost 2 quarts of milk out of her a day. Most goats kid twins and triplets and usually will produce even more milk than that!
Their personalities can't be beat. They are friendly, easily trainable, and truly enjoy human contact.
They are able to breed year round. Most goat breeds only are able to breed once or twice a year, based on seasons, but the Nigerian Dwarf Goat cycles throughout the entire year making it easier for us to schedule breedings and kiddings to fit our plans and schedules.
They are a hardy breed. Great in winter and in summer.
They are small and therefore take less to feed and drink less water than bigger breeds of goat. Their veterinary care is also less expensive (think dosing worming meds, antibiotics, etc.  on weight)
They are very agile and this adds to the entertainment value when you pull up a chair or log and watch them jump about and play.
They are intelligent. All of our goats know their names and come to them. We are working on teaching a couple of them fun tricks and they are proving to be quick learners. Except Ella, she is so stubborn and is trying to teach me tricks! I secretly think she has the upper hand and has me trained quite well.
Not to be left out is Pedro… his coming to the farm was a bit of a surprise to my husband (I really thought I had talked with him about Pedro but apparently not…)
One day I was looking at Craigslist (note to self, stop looking at Craigslist) and saw an ad for a Nubian wether who was super friendly! We had just gotten Elliott and the love for goats was becoming strong (think of the Star Wars "force") in this hobby farmer. I had talked with Kevin (my husband) about a buddy for Elliott and apparently I left out the fact that I had found one. I told the boys I was heading to get Pedro and to let their dad know if they needed anything. I picked up Pedro, brought him home and unloaded him to meet Elliott. They became instant best friends and I saw Kevin and Gunner at the sun room window watching Pedro and Elliott meet. This is the converstaion I could not hear but was told about word for word when I came inside…
Kevin: What is that?
Gunner: That's Pedro, our other goat.
Kevin: What other goat?
Gunner: You know, Pedro
Kevin: No I do not.
Note to self… make sure I clear all new animals with my husband BEFORE they arrive at the farm.