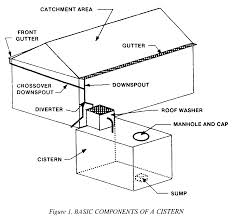 Water water everywhere… unless you live in California. Wish I could send some rain your way guys and gals. Readers are asking, "How do we collect and use water on The Shepherd Hobby Farm?"
We have an older well which we do not use often because of a high sulfur content (smell is the worst part of it) and a huge cistern which is AWESOME for us. One has not truly felt soft water until you have bathed in rain water. To some that may sound luxurious… to others, downright weird and unsanitary.
What is a cistern? Quite simply it is a vessel used to store water, usually a reserve of rainwater collected from a roof or other catchment area. People have been using them for hundreds of years. Our cistern is a simple cement "vault" type box buried underground about 30 feet from our house. We have buried piping hooked up to all the down spouts from the gutters of our house and garage (working on barn roof).
Why collect and use rain water? Did you know that rain water is known as the "Gold Standard" in water quality? It is more oxygenated, is naturally pH-balanced, and is free of chlorine and additives (EarthSystemsNW.com).  Yup, it's all those things and best of all, IT'S FREE! No water bill, I love it!
So what about the rain barrel projects that so many people are posting? Those are great starts and certainly worth the effort for things like watering gardens and flower beds. However, they only hold an average of 50-55 gallons of water whereas a roof system with a cistern will catch and hold thousands gallons of water. "Also, rain barrels often run out of water during the summer, when outdoor water usage is highest and rainfall is at its lowest. Cisterns can ensure you have water for outdoor use all summer long. Another benefit of cisterns over rain barrels is that rain barrels are typically used for outdoor water usage only. Cisterns, however, can be used for both indoor and outdoor use and can either significantly supplement indoor water use or completely replace it" (Earth SystemsNW.com). Our cistern is used for everything in our house except cooking and drinking water.
How does a cistern work? They can be either above or below ground and as mentioned before ours is below ground and when filled to the brim holds approximately 12,000 gallons of water.  Cisterns usually collect rainwater from a roof through gutters and downspouts which funnel the water into the cistern (this is how ours works). The water can be drawn out of the cistern through gravity or a pump can be used to provide increased water pressure (we use an electric pump that is housed in our garage). A simple hose bib can be connected to the cistern which allows a common garden hose to draw water directly from the cistern (we do not have this but know of some folks with smaller cisterns who do). The cistern can also be configured to run the rainwater into the house once it has gone through a series of filters (depending on if the water will be used for drinking water or for non-potable uses such as toilets, washing machine, etc.) We have a simple triple screen filter box the water runs through just before it enters the cistern. Once the water leaves the cistern it is pumped through a sediment filter and another cartridge filtration system in the house before it makes it's way into any pipes destined for our use.  Cisterns have an overflow pipe so that once the cistern is filled, the excess water is properly drained away from the house.
Is there any maintenance? Yes there is. We have monthly filter changes and cleanings which cost about $5 (we buy the cartridges in bulk and manually clean the triple filter screens) per month. We also check the gutter guards each month to ensure they are in place which helps prevent debris going into the downspouts. Once in a while we also choose to sweep off the roof but we know many people who choose to let a stiff wind do that job for them. I just like excuses to climb around on the roof.
About 5 years ago we went through a severe drought and our cistern was emptied by our usage. We used the opportunity to lift the man hold type cover and go down in to clean out the cistern "vault." I got an up close and personal view of our cistern and it was amazing. It is actually a two room "vault" with a 5 by 3 foot walkway through each "room". We cleaned some mud from the bottom and sent it up the ladder to the light of the day in buckets. There wasn't much and it created some amazing dirt for a patch of flowers that grew there in the summer.
Soooooo what if we are in a drought and get NO RAIN? Or perhaps a certain hobby farmer turns the hose on to fill the horse water trough and forgets it is on and drains the entire cistern onto the horse paddock ground overnight?  It's happened and we still needed water to live comfortably so we chose to have a water delivery service (the folks who fill swimming pools etc) come and delivery 4,400 gallons of water for $140.
Can we drink the water from our cistern? According to Earth Systems NW, "Rainwater can be used to meet all your water needs whether it's outdoors for your garden or indoors for washing and drinking. Rainwater can be turned into potable, high quality drinking water by using a series of filters." We have had our water tested and it is safe to drink but the filters needed to give me constant peace of mind often leech chemicals such as chlorine into the water to ensure sanitation. Therefore, we use a filtered 5 gallon water cooler system for drinking and just buy the refillable 5 gallon jugs which provides us with instant ice cold and super hot water at our fingertips (it's one of the few luxuries we use… another is our Keurig… what can I say, I'm spoiled in some areas).
Ya all have any other questions about cisterns? Ask away J
Lovin' the rain!
~Jhenna